Vispol Project Ltd. is Calgary 's single leading manufacturer of gypsum architectural products for prestigious residential spaces and commercial applications. We are dedicated to bringing new and innovative design ideas that ensure elegant taste, serenity and charisma to any home or business.
Vispol offers an extensive selection of standard gypsum products ranging from cornices, niches, medallions, brackets, center pieces, columns (base and capitals), fireplace mantles etc. Additionally, we specialize in custom work which is sure to fulfill any clients' utmost needs and expectations.
Our plaster products provide a lasting finish to any project, whether it's for a home, office, restaurant, commercial space, construction or renovation. It's guaranteed to provide your room, first and foremost, with a sense of warmth, uniqueness, charm, beauty and timeless satisfaction for years to come.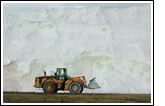 Gypsum is a naturally mined mineral found in many parts of the world. It is non-combustible, non-toxic and environmentally friendly. Vispol personally creates and installs its products with great care and precision. Our product will not crack or shrink, and in fact is virtually maintenance free when installed properly. Vispol personally guarantees its product and as a result we are prepared to extend a 1 year warranty to each of our customers from the date of installation.
For individuals looking to see, hear and learn more about this unique product, we are more than happy to provide you with additional references upon request.
You are invited to look through our product selection and work portfolio.